Care, when you can't be there
As much as you want to always be there for your loved one, it's not always possible. When you can't be there, we're there for you.
Find Complete Respite Care in your area
Enter your ZIP code to find respite care:
In Home Care and Respite Care
During these trying times our partners are severely limited in providing in home care and respite care. We are committed to helping you as much as we can. Please feel free to reach out to us anytime for assistance or call the Alzheimer's Association's free Helpline number 800-272-3900 for help and the latest information.
We are living in trying times in which elderly people are particularly vulnerable and in which urgent care needs could develop unexpectedly. Complete Respite is here for you to help you find any type of care assistance that your loved one might need, be it personal care, companion care, overnight care, memory care, Alzheimer's care, or any other type of care. It is also important to take care of yourself, and we can help you find short term respite care if you need some relief.
If you are in need of care for your loved one, we encourage you to visit us at www.completerespite.com and to sign up for free to learn more about services in your area. Once you've signed up, you'll be ready to search for and book services – whether it's an in-home caregiver, or a respite stay – whenever you need the help!
As always, please don't hesitate to call us at 800-527-7815 if you have any questions, or need any help!
Complete Respite Network
Complete Respite delivers relief for caregivers like you by offering both in and out-of-home care services when you need it, care services that save time, effort, and emotional stress. You can trust us to help you find the ideal care surrogate for your loved one, tailored to your specific needs.

We offer safe, qualified care for your loved ones on a short-term basis in your home, at certified healthcare facilities, and at select hotels. We assess how much help you'll need and match you with temporary, qualified caregivers. So you can go on business trips and vacations and be sure your loved one is being taken care of with warm, professional care that you can rely on.

When you need help, we are here for you. Take the first step. Registration is simple and doesn't cost anything. Then we can be there whenever you need us.
Our Services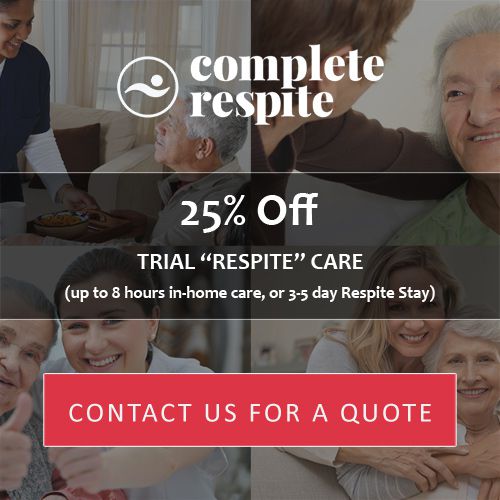 25% OFF
TRIAL "RESPITE" CARE
(up to 8 hours in-home care, or 3-5 day Respite Stay)
Complete Respite Network is offering a Promotional 25% off
In-home care (up to 8 hours) or "Respite" stays for your loved one of 3 to 5 days.*
Take advantage of a significant discount with no obligation after the initial Booking

You can have a much needed rest!

Once registered on the completerespite.com website, you're ready to book additional services as needed
* Please call us at 800-527-7815 today to secure your discount and book your respite care!
Get Respite Care in 3 Easy Steps
Step 1 : Sign-Up
Sign-Up for free fast and easy
Step 2 : Choose a Service
Choose a Respite Care service provider
Step 3 : Meet & Greet
Meet and greet your licensed Respite Care service provider and make arrangements to start your respite care